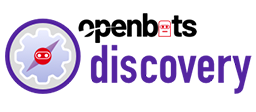 RPA Process Discovery Features & Benefits

Analyze your business one process at a time

Assess feasibility of Automating

How complex is the Automation?

Calculate & Present Return on Investment

Prioritize & sort automation backlog
What is Discovery in Intelligent Automation?
Discovery is a process that objectively looks at the work performed within a business to identify automation opportunities that directly impacts business processes and services.
Systematically analyzing a business process end-to-end, or simply soliciting ideas for solutions directly from process owners is the ideal way to start your automation journey.
Being able to analyze business processes to determine areas where intelligent automation can fit within critical operations is crucial to successfully completing workflow automations.
Our Discovery Tool is included in the OpenBots platform.
See Plans Pricing